Alongside brewery mergers and acquisitions mergers, one of the prevalent and inescapable issues dominating the modern brewing landscape is that of hops and more pertinently, their supply. Hop shortages, of varying severity, have been well documented, while the adage of necessity being the mother of invention has ensured that brewers are increasingly turning to yeast and malt to express themselves through their beers.
According to Ann George, executive director of Hop Growers of America (HGA), 2015 was a tough year worldwide. Not quite an annus horribilis, but one that resulted in a defect in alpha production all the same. In the association's 2015 report, released last month, she confirmed that high summer heats and water restrictions resulted in mixed results for crops, with earlier harvest aroma varieties being hit.
While in Europe, where the majority of the crop's water needs are supplied by rain, drought in Germany and other continental European countries bore witness to dramatically reduced yields. Germany had 34% of the world's hop acreage, 4% lower than the US at 38%, but it contributed 33% of the 2015 crop while the US provided 42% of the global hop supply.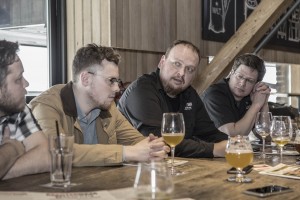 "The unusually high temperatures experienced this past summer were unprecedented, and we do not anticipate a repeat of an early and persistent heat wave," she explains. "While we are waiting to see the final snowpack situation in the spring, we know we are already far better off than last year, so we anticipate higher yields along with more acres going in to meet contract demands."
But going forward, George is bullish about the sector's fortunes.
"Going through our statistics, it is clear that growers are putting more hops in the ground to meet the needs of both domestic and international brewers. It was promising to see the Brewers Association report that so many of their members are contracting, coming in at around 95%," she says. "While that definitely leaves uncertainty for those who are not contracting, the more contracts growers and merchants have, the better they can serve the domestic and global brewing industries. For those relying entirely on the spot market, that's a pretty big gamble, especially considering the current market."
improving picture
Looking at the broader picture, some industry experts are predicting an easing of spot prices for some particular varieties, regardless of the heavy demand placed on them by the brewing community.
In a recent article in the Financial Times citing the International Hop Growers' Convention, it was reported that global production is expected to increase by 21 percent to 105,442 tonnes, which is the highest it has been since 2009. Planted acreage is forecast to swell by seven percent, reaching 53,876 hectares worldwide. In the US alone, production is predicted to grow 20 percent, says the IHGC.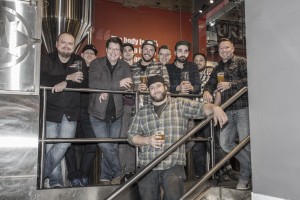 And in Canada, like much of the world, the issue of hop contracts, or forward contracting, is guaranteed to catalyse fiery debate among the brewing sector that rely on them. As the burgeoning industry continues to bloom, placing increasing pressure on frequently strained supply lines, the dialogue between merchant and brewery is more important than ever.
"The biggest challenge is supply. It is always supply," explains Jeff Broeders, brewmaster at Indie Ale House. "As craft breweries, especially those on the smaller size. it's about supply. When you're not looking for massive volumes but you still want to make good beer, especially on a seasonal basis, then that can obviously be a challenge.
"There's no doubt that Canada is getting pretty much sh*t on as the US is getting all of the good hops out of Europe, which is perhaps unsurprising.  So certain hops are just simply so hard to get and we are getting the raw end of the deal. We want the hops, we can't get them. We want quality, that's all we want and something that is difficult to come by."
Recipe Development
Matthew Tweedy, brewmaster at Tooth and Nail Brewery, adds: "Looking at someone that may have started brewing only a few months ago, it's an exciting time. But when you are putting together your recipes then that is also definitely a challenge.
"You call someone up, then someone else, then someone else, then someone else up and get told time and time again that those hops are not available. You can take that in a positive light, and look at that as an opportunity by brewing the style you want but variants of the hops you were initially after.
"But when you move that mindset aside then it is hard, of course it is. On one call I made recently, I was told that all of the Amarillo they had was sold until 2019. I mean…. what do you do? But is it surprising anymore? Then probably not. It's a pretty daunting thing.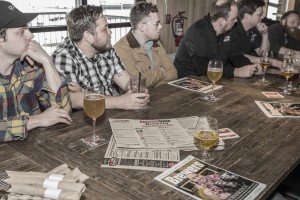 "The other thing is that you can get a lot of these hops if you look into the contracting side of things but how on earth do you know the volumes you will need in your first year? Those formative stages are when you are developing, brewing and selling your foundation, core, beers. You are not to know what sales will be like in those first six, or 12 months, so how on earth can you know what volumes to forward contract on that basis, then?"
But for Iain McOustra, brewmaster at Amsterdam Brewery, he is passionate, and adamant that the reliance on several types of hops in your beers programme can massively impact the hop profile experienced by drinkers.
Consistency Issues
Through replacement hops through to consistency issues, the end product will be way off, I mean not even close. If there are issues with the consistency of the hop, or a shortage of it then it can't simply be a case of choosing the best of what's available and hoping for the best No. Every single batch has to be the same."
"It is no secret that consistency, quality and of course, supply are key to breweries. Of course they are. But its not even just the season to season that can impact the hop you are getting but where that variety has been grown in particular region, too," argues Daniel Collins, president of Brew Culture. "Cascade from Yakima can differ from another part 40km away where the weather patterns can vary greatly. Go from there to Oregon and you are getting something completely different again. Then you look at the impact water has, and when they were harvested, these things obviously have a huge difference," he explains. Tweedy echoes McOustra's earlier point.
"Let's say I have a certain recipe bill and on a smaller scale than you, and if we rely less on the consistency of the hop but more on the supply of what is available. If you have a beer that your customers are drinking, and one where the flavour profile changes pretty quickly, then before long people will be asking what the deal is. And you have to say that well…. I can't get that particular hop anymore so the beer you enjoy has changed. That's an unfortunate thing to have to tell someone," he says.
There is little argument however on the role contracts play, and the costs associated. The cold storage factor that plays a key role in the contracting proposition. Cold storage, below 5C, is expensive to run and with that in mind, many would argues that if the company was to contract 30kg, but allow the brewery to call this offer over the year, then it would prevent a merchant from realistically being able to offer both a premium product and retain any profit in the process.
Creative Solutions
For a take on the situation from overseas, Alicia Munoz technical specialist at Simply Hops, part of the Barth Haas Group, recently looked at the 2015 hop harvest, and the challenges and opportunities it poses to brewers.
"While many of us enjoyed the nice weather during the summer, swimming in the beach or even drinking beer, the German hop fields were having a bad time with it," she says. "And being fair, who wants to work when the thermometer reaches 35C and above?
"Hop cultivation requires a particular environment. Long light periods during plant growth (up to 18 hrs/day) and temperate weather (sufficient warmth and moisture) are the conditions in which  the hop plants like to grow. Normally, July is the month with the highest precipitation values in Central Europe. This together with the moderate temperature makes countries such as Germany, Slovenia, Czech Republic and Poland privileged for the growth of hops. But something totally different happened this year."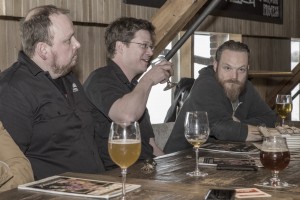 She explains: "This summer has been described as the summer with the most "heat days" on record and it had less precipitation than normal, even surpassing the record year 2003. This combination allows us to describe the 2015 crop as the worst crop for the central European hop industry within decades. At the end of August, the German hop industry association described the crop as significantly below-average in all European hop-growing regions due to the hot and dry conditions in the months of July and August.
"In spite of an increase in acreage by 540 ha, the official harvest estimation commission's forecast is down by 25-40% versus a normal crop in Central Europe. Also, experience shows that poor yields go hand in hand with low resin and oil contents which increase the problem exponentially. Fortunately, the US is expecting a more or less average crop so that at least the supply of US flavour hops should not run into any serious problems. The UK crop is looking good with an increase around 5% versus a normal crop. However, it's not just supply that's causing the problem. The huge demand increases that we have seen for aroma hops and continue to see will only make the problem worse. On the plus side, the supply situation in the high alpha segment is far more relaxed."
So, why is these particular comments relevant here? Because Munoz believes that brewers should be looking at creative solutions.
"Brewers and hop traders should work together to achieve the targeted results. Some recommendations are for example to look into prior year inventories. Good hop traders keep their products under cold conditions (0-5°) and under vacuum or controlled atmosphere to ensure a good quality of the products over the years. The important value here is not the harvest year but the Hop Storage Index (HSI), which indicates the freshness of the hops. The HSI measures the amount of α- and β-acids lost over a period of 6 months at 20C," she says.
Munoz adds: "This value, which aims to estimate the future α-content, depends on the analysed variety, the time of harvesting and the packaging among others. The conditions and moment in which hops are harvested have also an influence on the initial HIS. The combination of these influences develops in that even older hops may have a better HSI than younger hops. This in combination with the hops contracted for crop 2016 may help to bypass the shortage in some varieties. Of course, those who have worked with and on their recipes and the sensory characteristics of the hop varieties contained in them will be at an advantage and well prepared for the hard circumstances.
"Looking into new varieties to substitute or to prepare mixtures of different varieties to achieve the desired aroma profile offers a good solution. However, it is important to keep in mind that there is no one to one substitution of any hop variety.
We have accumulated a wealth of knowledge in this field in recent years and can assist brewers in finding the optimal solution with the help of brew trials, sensory panels and flavour analyses.
"Also optimising the recipe by using CO2 extract or bittering products such as IKE, Isohop… may help to save in other products used to give aroma to the beer. Or maybe considering the usage of PHAs or other hop oil products to kick the aroma and flavour of your beer to balance the final desired sensory perception."
Give and Take
It is offering alternatives, finding solutions and doing their best to enable brewers is a point that rings true with Daniel Collins, president of Brew Culture. He is also sympathetic to the demands of brewers that just want the best ingredients possible to make the beers they want to brew. He explains: "At Brew Culture we're passionate about craft beer and the brewing community. We aim to supply brewers with the highest quality hops, direct from our partner growers around the globe, so they can explore their creative sides through the beers they so artfully create.
"Brewers like what they like and part of our job is when the Citra, Nelson Sauvin and Simcoe's of this world aren't available, is for us to push other varieties. We answer the phone and nine times out of 10 it will be looking for those varieties and you simply have to cut the person off. It's a shame, of course it is," Collins says. "But our tastes are changing all of the time, consumer tastes are changing all of the time and hopefully we can see some development in what is demanded of us, too."
Tweedy agrees: "I am aware of some varieties that I wasn't aware of before from speaking with my suppliers. It's a positive as it opens your eyes to new possibilities, however it is a case of working out if, and where, they fit in with your recipes and your programmes going forward."
And it this willingness to learn, explore and innovate that effectively guarantees Canadian breweries will continue to produce some excellent beers, regardless of the challenges they face.
Special thanks to the brewers that took part in our first roundtable: Iain McOustra, Sam Corbeil, Marc Mammoliti, Ryan Morrow, Jeff Broeders, Matthew Tweedy, Justin Da Silva and Andrew Crowder.