Brewhouse? Check. Tank farm? Check. Centrifuge? Check. Packaging Hall? Check. Canning line? Check.
Iain McOustra and the team at Leaside, Toronto-based Amsterdam Brewery were told they were mad when they outlined what they wanted to achieve in 2016. But did that stop them? Of course not. They had their expansion plans in place and they were dead set on fulfilling them. Now, as the dust settles on a frantic, successful year, brewmaster McOustra is breathing a sigh of relief and is back raring to go.
"Growing as a brewery, if you're lucky, is something of an endless road. We were rightfully told we were crazy last year with the amount we set out to do, but the expansion was a great learning experience and it was a dream come true to be part of that," explains McOustra.

German manufacturer Krones were commissioned on the project, supplying Amsterdam with equipment that included a CombiCube brewhouse and a Craftmate canning line. Yet brewing 50,000HL in 2016 was not enough for the brewery, with 10 more 200HL tanks due for installation this year, bringing their quota up to 40.
"These investments took place at a time where the industry really exploded but that has enabled us to move on to the next stage of our development, and build on the solid foundations we created. The growth in Canadian beer has been great, but it is more critical than ever that the quality of your beer is as high as it can be, and you don't take your foot off the gas pedal," he says. "You need to be focused, and we are. I am excited, as it means this year we can go back to making headroads with innovation, and get back to making beer."
And making beer is where McOustra's passion lies. The equipment investments enthuse, but talking about the beer itself is when the brewmaster truly comes alive. A 14 year career at Amsterdam has imbued McOustra with a love for all aspects of beer, from provenance to pint.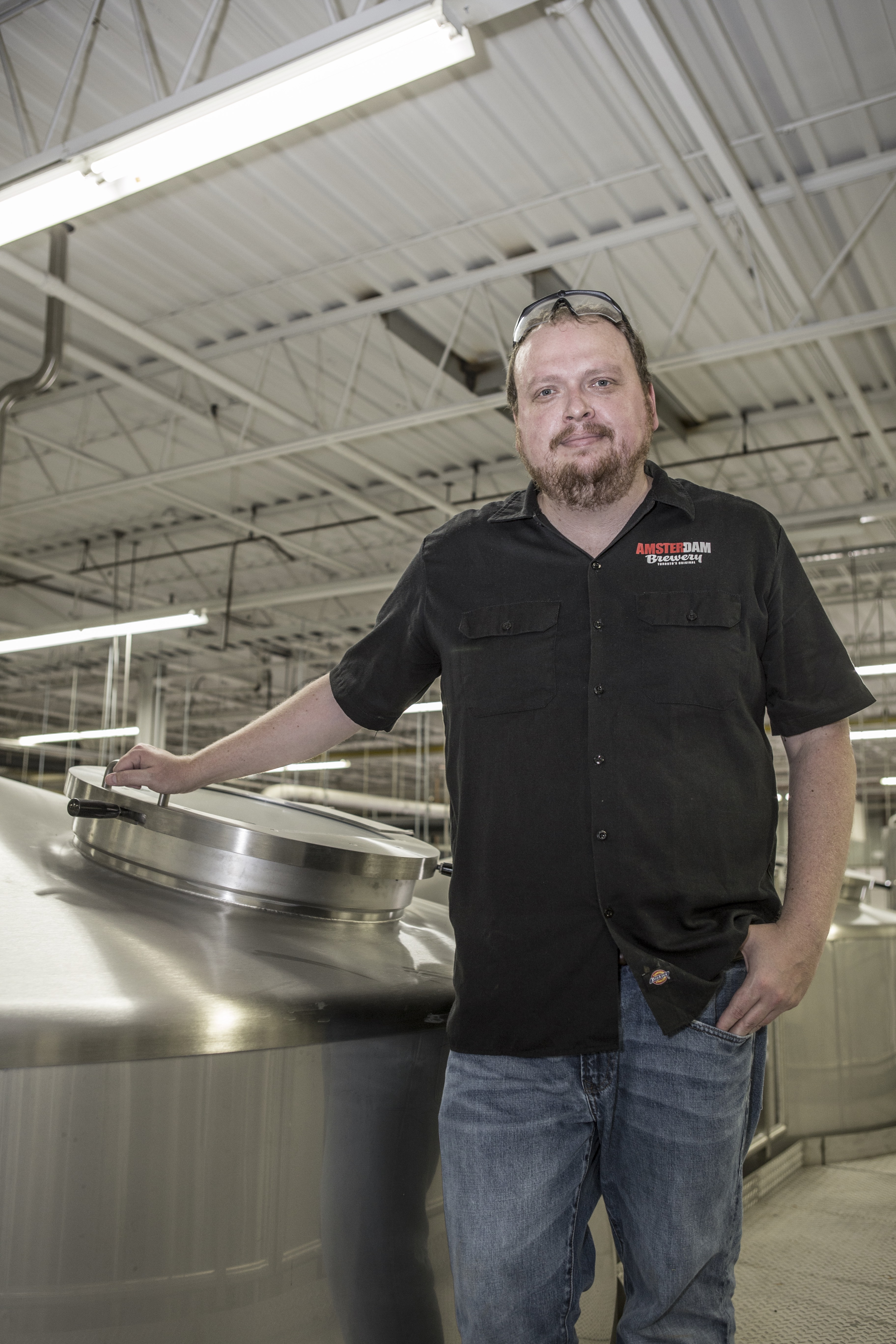 "Being part of a brewery is surreal and it's rewarding. Coming into work everyday is a blessing and to be part of this team, and be in my position, is very satisfying," he says.  Aged 36, McOustra has been brewing for nearly half his life. And when he started out, the Canadian beer landscape was a very different animal.
"There were something like 12 breweries then, so you were damn lucky to have a job on a bottling line, let alone be anywhere near the actual brewing side! I ended up stumbling into being a position where I was able to brew all summer and where I couldn't wait to come in and brew every day. It was where I wanted to be," adds McOustra.
But in 2003, his career could have taken a different trajectory. Kawartha Lakes Brewing of Peterborough, Ontario, where McOustra was working at the time, was purchased by Amsterdam Brewing.  An interview with the company's brewmaster followed and a brewing future was out of McOustra's hands. 
"Fortunately for me, I was allowed to stay on once Amsterdam bought KLB. My interview involved drinking three pints, a lot of talking, and that was that!" he adds.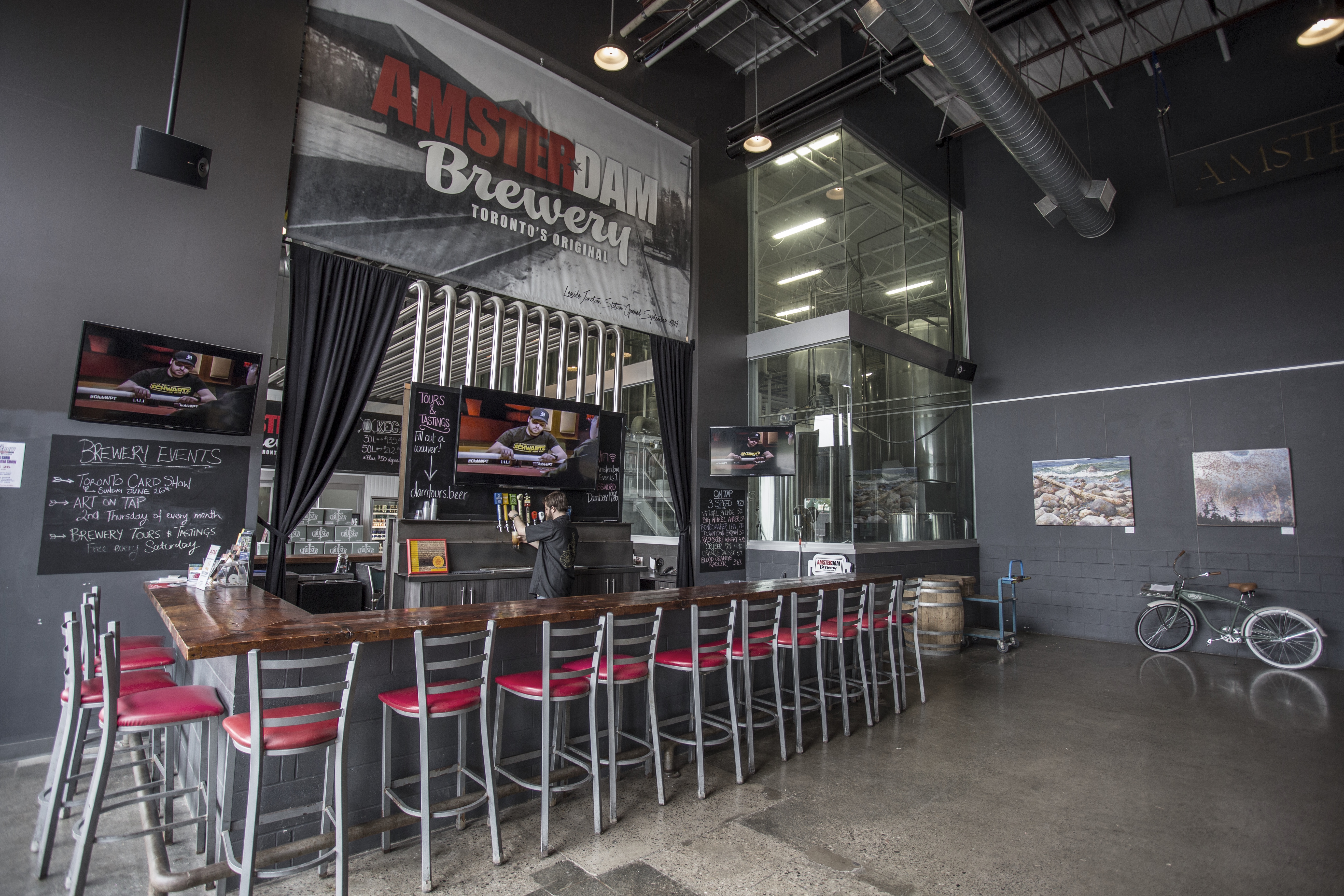 Since then, McOustra has held roles as innovation brewer, head brewer and most recently, brewmaster. And his experiences across all facets of brewing at Amsterdam have given him an ever-increasing respect for the art of brewing, the importance of ingredients, and their origins.
"There are so many breweries now. The opportunity for trial and error has rightfully gone away. You should not be putting a new beer on the market and 'seeing how it goes'. Things are more competitive so you need to ensure that everything is dialled in and it needs to be on point," he says. "There is a real danger with people producing new styles yet the quality isn't always there. We are currently brewing a new Black Rye IPA, and we've done 25 Rye beers before, but we are doing several batches first and we won't put it out until we are happy. Not enough breweries do this."
He adds: "I think it's possible to get too locked into your small beer scene, the parties, takeovers and awards. But you should really want people that do not necessarily drink craft beer to try your beer, to like it, and to go out wanting to try it again. A bad experience can translate to all beer and all breweries, so it's incredibly important to nail it and get it right."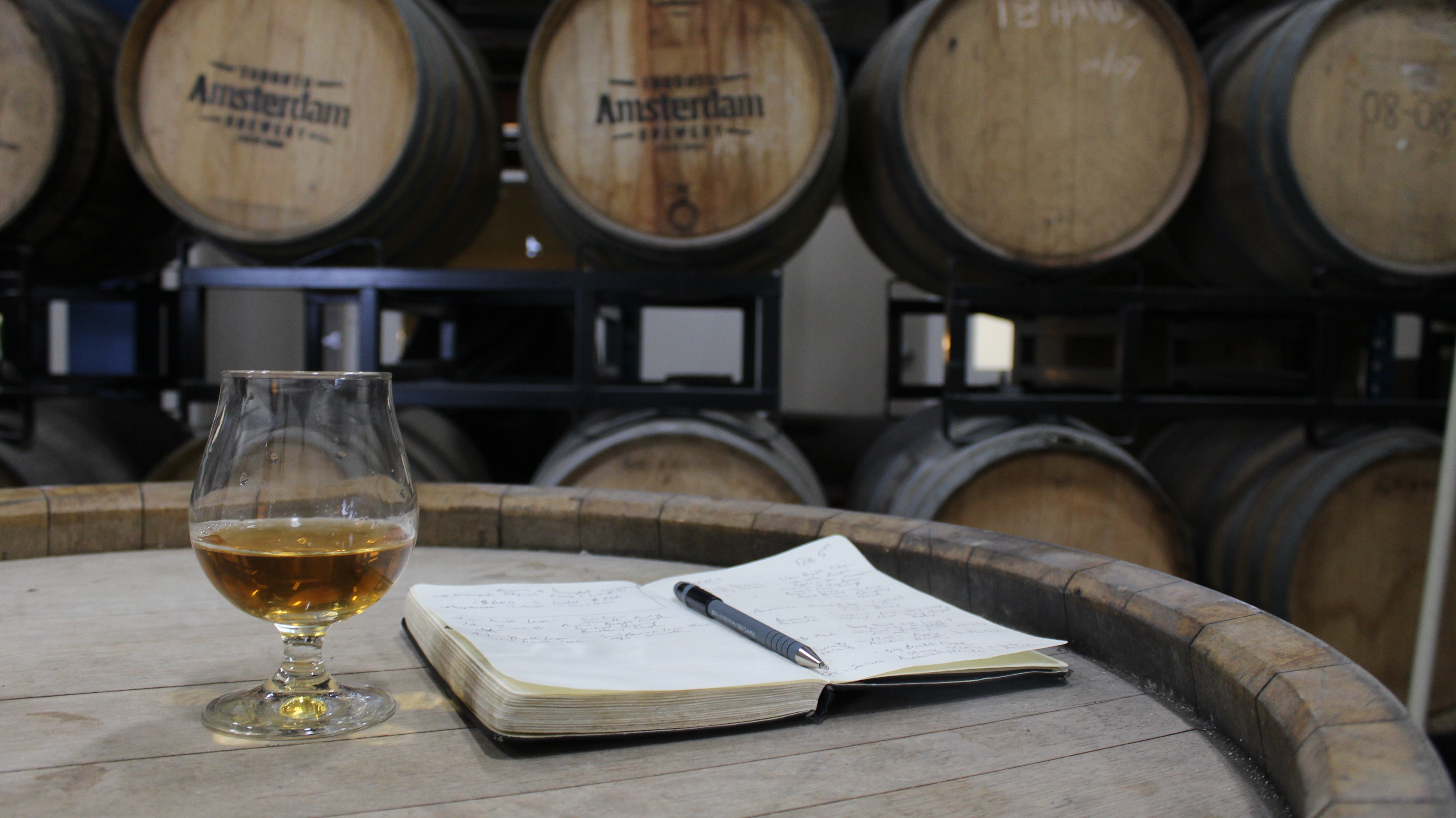 For McOustra, he believes it's too easy to get caught up with the culture of tap takeovers and the like, forgetting the importance of raw materials and the impact on the beer they help produce.
"It's important for my career, and for the company, to focus on the important things. When you get deep in a subject, you find yourself wanting to work out what makes something special. Is a great beer the result of a brewer's skill set, or is it something else?" he asks.
McOustra adds: "You'll probably find that it's more likely that good brewers are trying to get out of their own way in brewing and to let ingredients shine. If you are trying to be unique or worthwhile, how will you do that? Is it through process or ingredients? For me, in terms of process, we are well on our way. But it's ingredients that are far more important. For instance when you look at malt analysis, how do you know whether it is accurate. You speak to the maltsters, that's how. You should always be questioning, striving to learn and challenge yourself."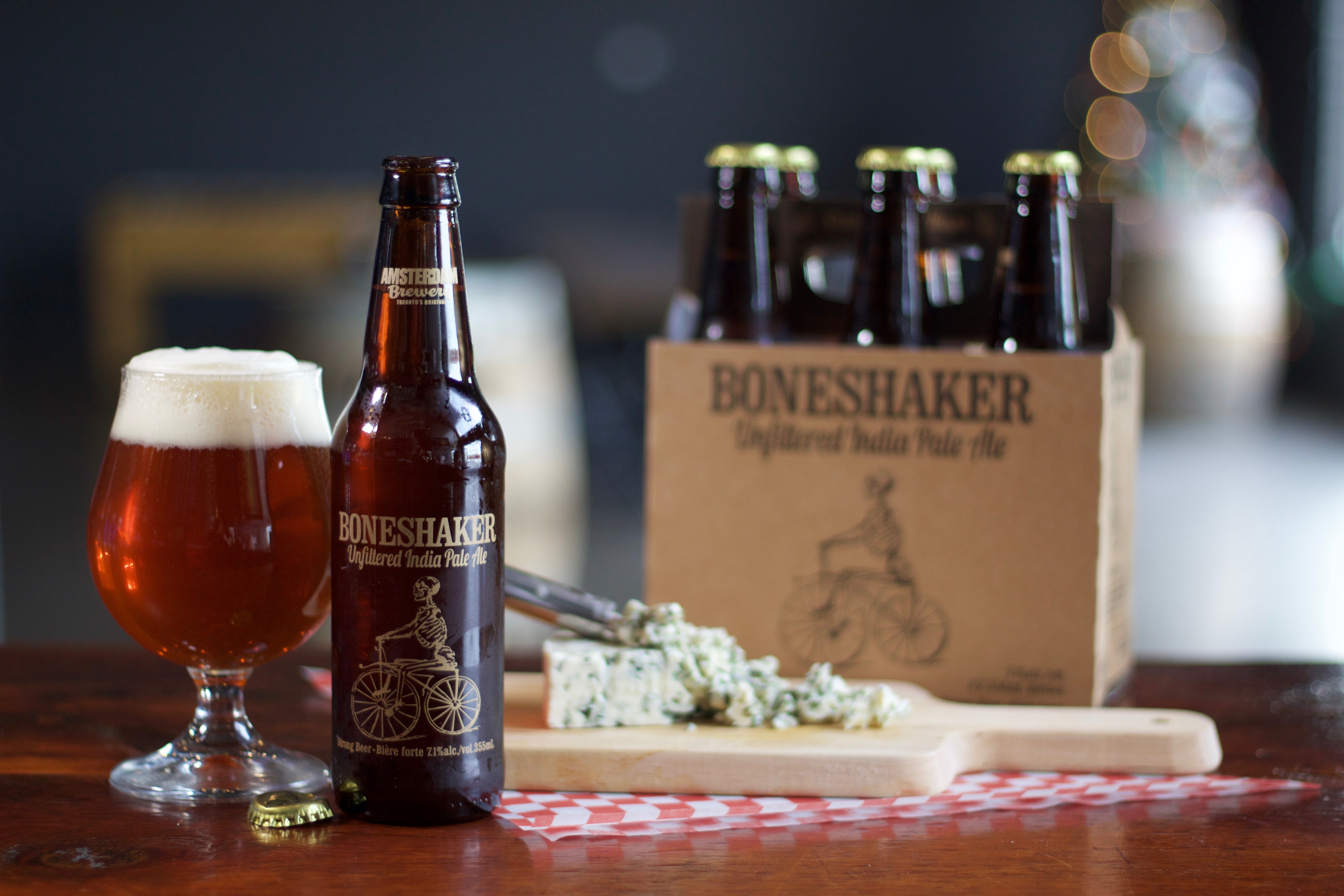 One such way he and the team do that is in the diverse range of beers they produce. Spending time in Germany gave McOustra a true appreciation of Helles beers and to celebrate the brewery's 30th anniversary, they produced 2017 Helles Golden Lager, a 5.2% unfiltered beer.
"While Boneshaker IPA is our biggest seller, I think there is an opportunity for delicate malt and yeast flavours to come to the fore. My time in Germany gave me that appreciation for Helles as it is so difficult to make a good one. With this beer, once we nailed the base malt, it's all about the yeast strain, and how your ferment it," he explains.
"We decided we wanted it unfiltered but crystal clear without using a centrifuge, just to make life difficult for ourselves! For me this style is beer at it's most base. If you can do that well, it shows the opportunity you can have with malt-forward beer. It was something we can be proud of. It's about making beers that are special and that many people can enjoy. Full of quality, technically well made, and appreciated by as many people as possible."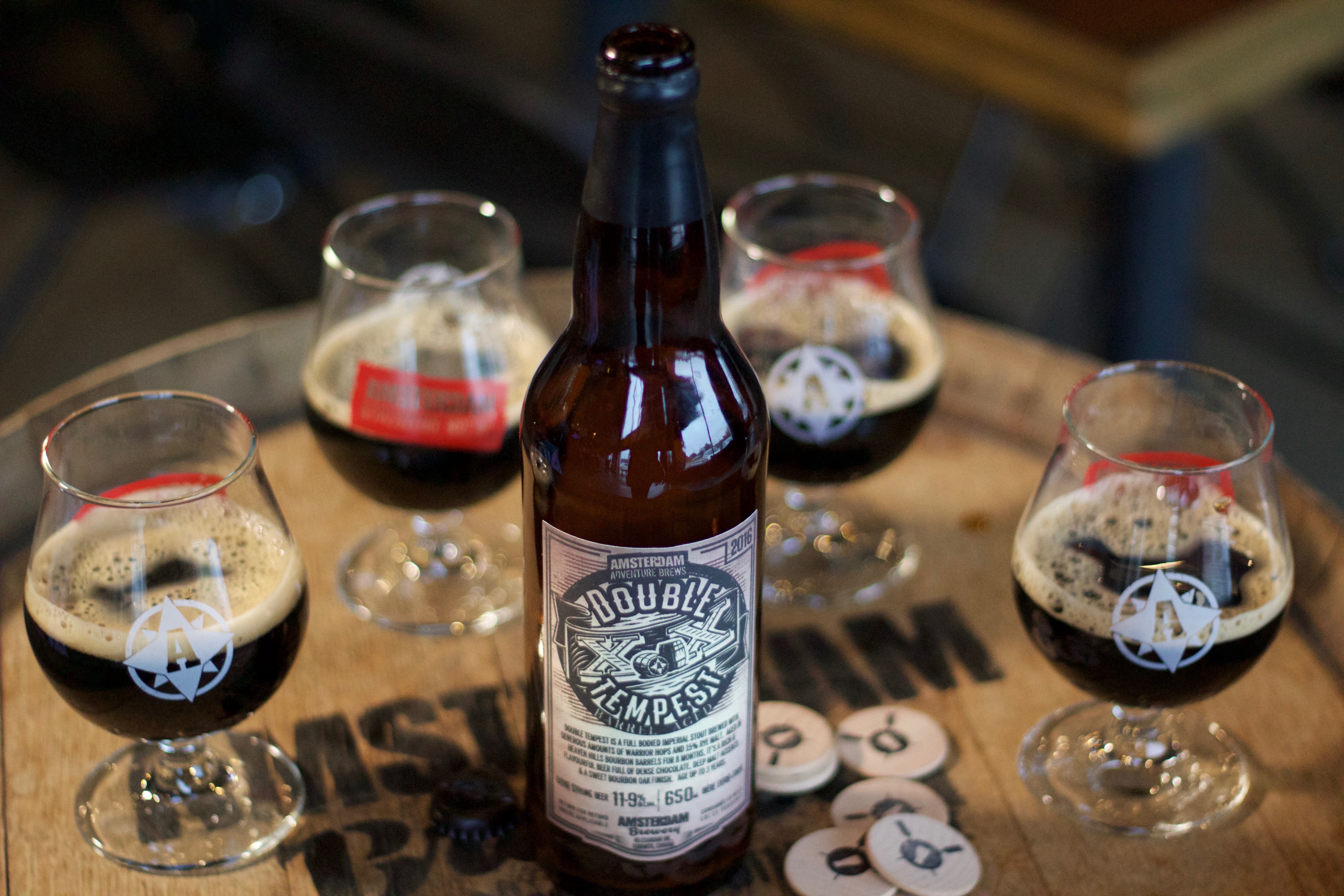 McOustra is also a big fan of the brewery's Farmhouse Series, which falls under the company's 'Adventure' programme of beers. In 2016 they teamed up with their friends at Great Lakes to produce a Triple IPA that he is particularly fond of
"During a tour of farms we were walking through, we came across Chinook still on the vine. I've used Chinook for a decade but this smelled like Mosaic mixed with Centennial, it didn't lean towards dankness. I talked to the farmer and they were good enough to send us a bale of that hop. We were very lucky as we wanted to translate it to a beer and it worked incredibly well," he explains. "With that in mind, we have looked elsewhere to do similar beers. We were able to get cuts of Pacifica from the southern hemisphere, which was gorgeous and we also have Jester coming over from the UK. It's been a great experience doing beers with these fantastic hops."
Expansion of the adventure programme is something McOustra is keen on in 2017.
"This will allow us to show people that we are still very much plugged into the innovation and the production of diverse beer styles. Even our Boneshaker IPA started out as an experiment. If we approach all of our beers in the adventure programme genuinely, and with honesty, then I think we'll end up with some really great beers that have a fantastic story," he says.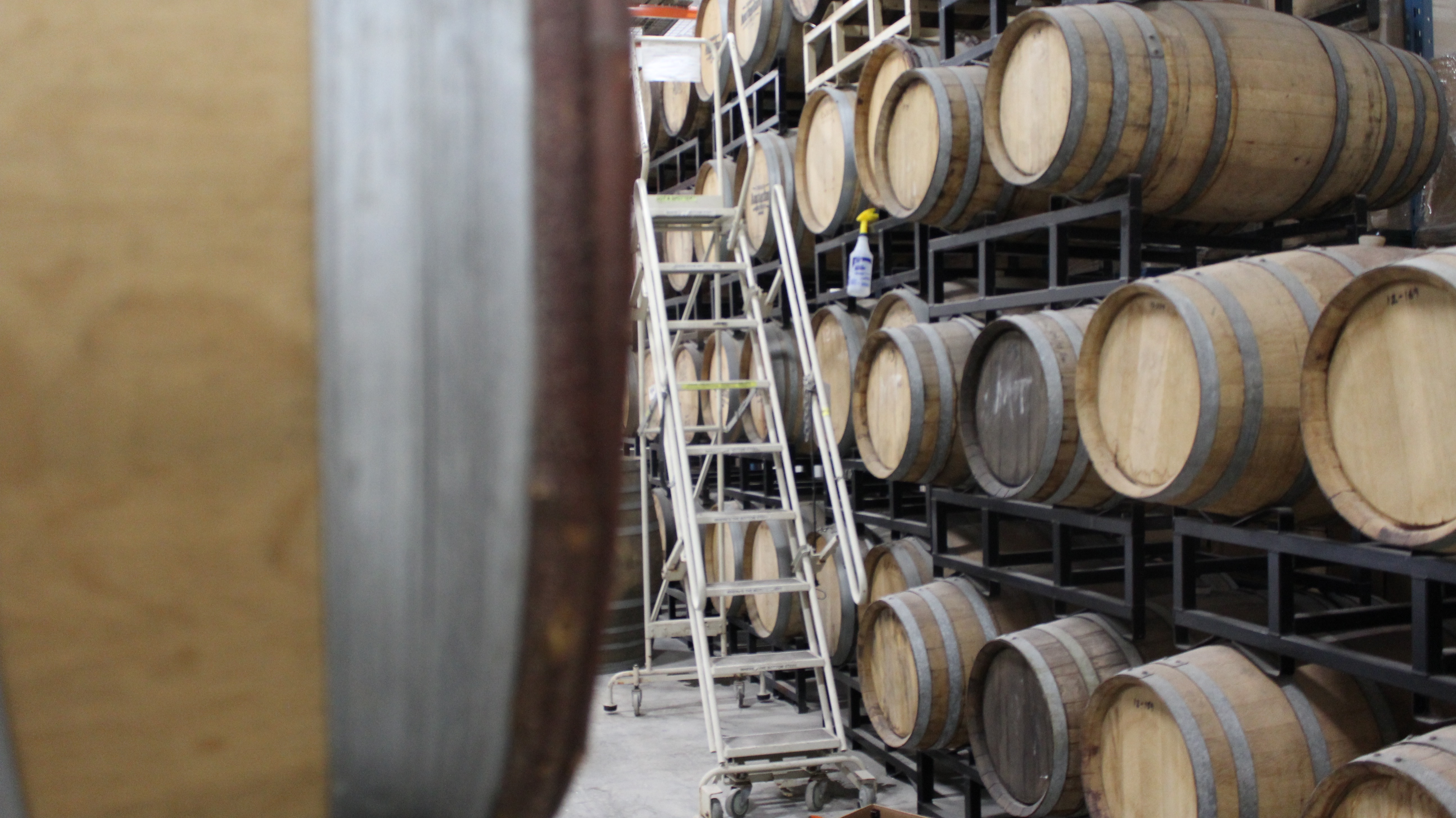 Amsterdam has nearly 100 employees at the brewery, with eight in the brewing team. But McOustra points out that everyone is rotated, which ensures everyone has an input into the beers they produce, resulting in a collaborative process across the board.
Outside of the brewery, McOustra considers himself fortunate to be part of the community, and smaller micro communities, that allow him to work with close friends that also happen to work at breweries.
"We do a lot of travelling, checking out scenes and ingredients, learning together. If I can learn, I am all in," he says. "I am done with quick brews and focused instead on moving forward with doing something meaningful and of true quality. For me it's a long term thing, not a quick win. Some of our collaborations have been four or five years in the making. It's about working out how you're going to do something and more importantly, why you're doing it."
And it's that sense of pushing himself that is driving McOustra and Amsterdam Brewery to the next stage of their development.
"It's a case of perspective. If you have perspective then you are alright. The most successful brewers I have met see it as a lifetime career. The ones I've trained with or have seen do well are all about learning," he says.
"They are focused on the long game and trying to understand one thing at a time and assuming they nothing. One thing the people at the top have in common is that they are always striving for more. And that's where we need to be."