"In the first 12 days we have had seven thousand people through the doors. It's an incredible feeling and we are really appreciative of that."
The people behind Cowbell want Blyth, Ontario and the people of Blyth, Ontario want Cowbell. It's no surprise that Grant Sparling, general manager and vice president of the new brewery couldn't be happier.
A brewery's ability to play their part in transforming an area is well known, they can even help raise property prices in some cases. But it says a lot about Cowbell's immediate impact on Blyth that the main image on the Blyth, Ontario page of TripAdvisor is that of the brewery itself. Not bad for a business that, at the time of writing, had been open little more than three weeks.
Cowbell is owned by the Sparling family, one that has entrepreneurial roots in Blyth, Ontario, going back three generations. Grant Sparling and his sons, Steven and David, built Sparling's Propane, which grew to be one of the largest propane retailers in Canada before it was sold to a national energy company. Steven, David, and the third generation, Grant who we are speaking to today, have taken this business expertise into craft brewing.
Despite opening in August 2017, the beginning of the Cowbell story can be traced back eight years when the wheels were set in motion for economic development underway across Huron County. Blyth was identified by a study as an area of renewal and one means to help catalyse that was to open a brewery.
Initial suggestions put out included a brewpub but it wasn't long before the idea of a full-scale setup started to take hold. Handily a site to build said brewery on was only a stones throw away.
In the 1970s, as Sparling's Propane grew, Grant Sparling's grandpa purchased the neighbouring farm from a gentleman called Robert Henry and it has been in the family ever since. Over the years, the family has donated land for the construction of the Emergency Services Training Centre and two soccer pitches, but they retained acreage, that would eventually become home to Cowbell Brewing Co.
This land at the corner of Highways 4 and 25 was formerly a cattle farm – which served, in part, as inspiration for the brewery's name. Beyond the name, Sparling explains, the family recognize that farmers are the true stewards of the land, and in honouring the property's past, Cowbell conducts itself in a sustainable and environmentally conscious manner.
The facility itself is incredibly impressive.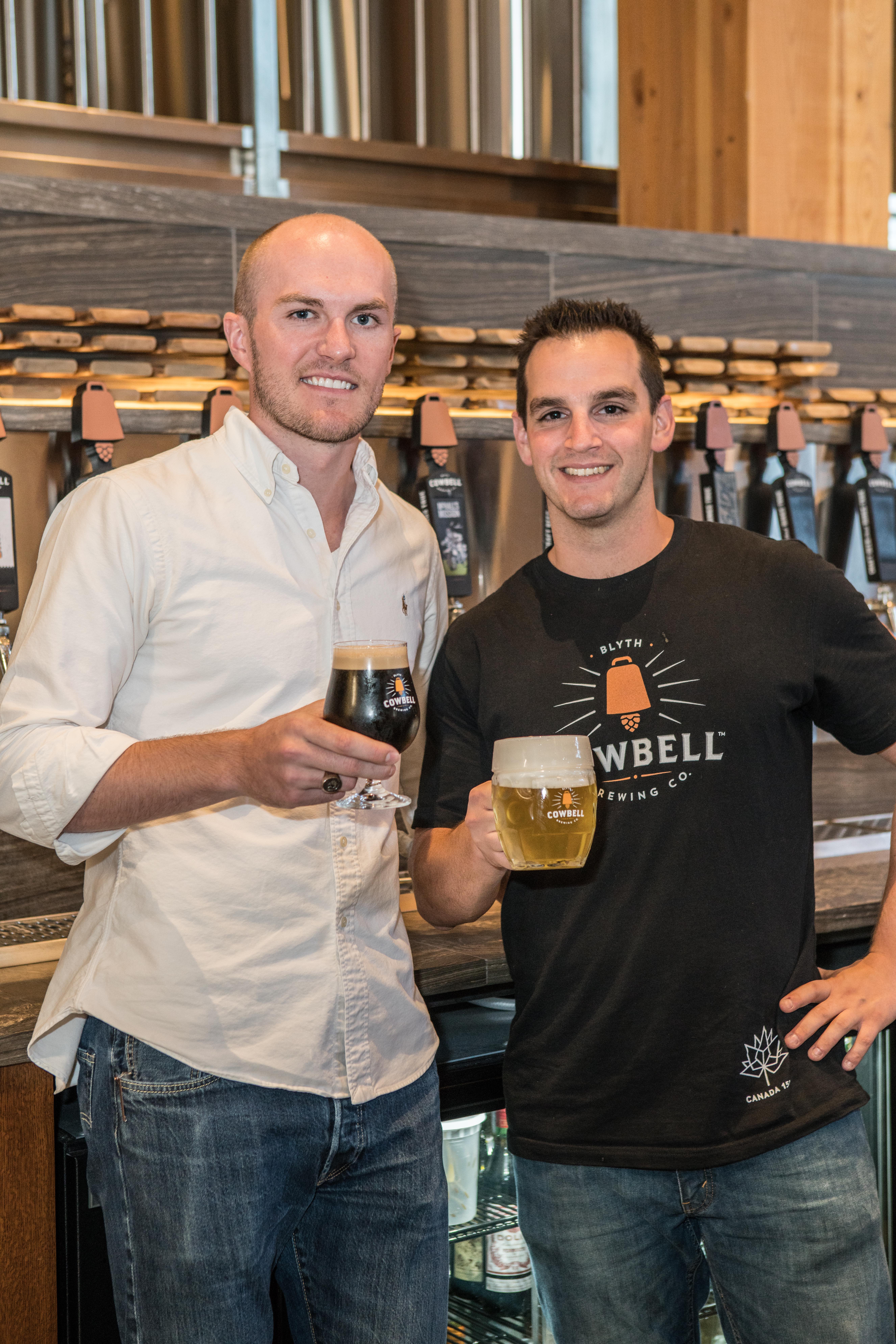 The 26,000 square foot destination brewery is located just south of Blyth on 111-acres at the corner of Highways 4 and 25. The authentic 19th century barn architecture features soaring ceilings with visitors able to take part in self-guided brewery tours on the catwalk, local farm to table fare in the restaurant and on the verandah, wood fired pizza, and the main event, excellent beer.
"There are so many breweries popping up in across the globe. You have to offer something worthwhile to stand out. It has to be unique, special and creative," Sparling explains. "In our mind, the beer had to be great and it has to be the starting point but every other aspect of the experience has to be excellent, too. It has to be. Look, everyone that comes here has to drive and you're looking at a minimum of 15 minutes here and back so we need to offer an experience that lives up to expectations."
While much emphasis has been placed on the customer-facing side of the Cowbell operation, it's important to point out that the brewery is the first carbon neutral operation of its kind in North America.
Cowbell will offset 100% of its greenhouse gas emissions including all energy consumed in the brewing and facility operations. This goal stemmed from a three-step approach as established by lead architect, Jason Morgan of Allan Avis Architects, Goderich, ON.
Speaking prior to the opening, Morgan explained: "The first step in minimizing the environmental impact of the main brewery and restaurant building is reducing energy consumption using smart building enclosure systems, equipment, lighting, dramatically reducing water consumption in the brewing process, and providing systems that are derived from the building's conceptual inspiration."
The lofty interior spaces of the brewery use rooftop cupolas, equipped with remote control windows, as an effective, traditional means of ventilation. Additionally, the building's orientation on the property is designed to effectively reduce the energy required for heating and cooling.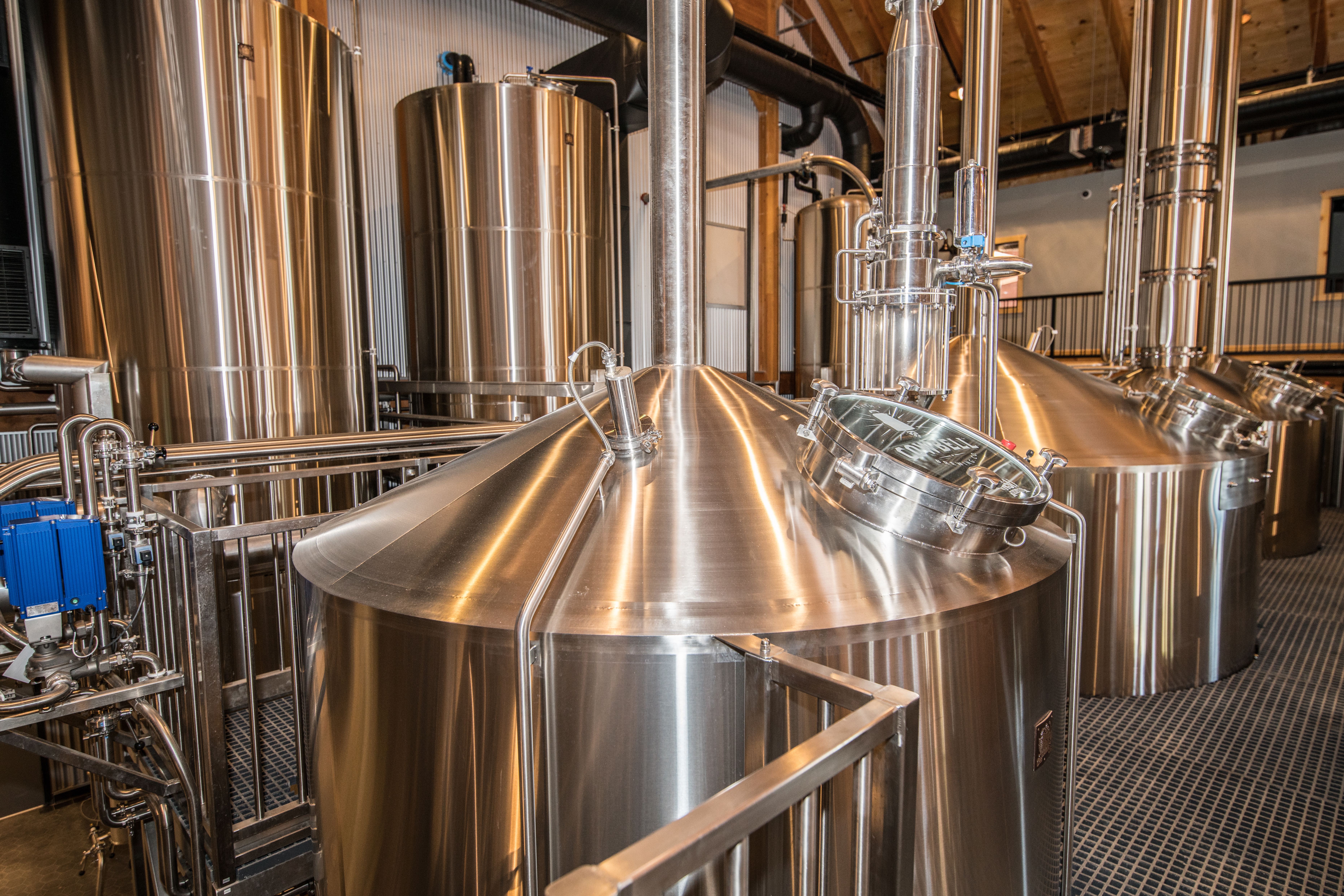 State-of-the-art brewing equipment and design comes from Newlands Systems Inc. (NSI) of Abbotsford, BC. Some of the key features of this include electrical components equipped with variable frequency drives to reduce unnecessary electrical draw, internal rotating jets that reduce water consumption as they clean. It also features a low-energy brew kettle boiling design that reduces primary energy by 50%, evaporation water by up to 80%, and allows remaining vapour to be condensed and used to generate hot water.
In addition, Cowbell's targeted water-to-beer consumption ratio is 4:1 – a figure far lower than the relative industry standard of 10:1. Sparling and the brewery are particularly proud that they operate a closed-loop facility with an onsite deep well supplying 100% of the brewing water. This design also features the company's own effluent management system, meaning there will be no impact on municipal sanitary services infrastructure.
Such building design and water saving strategies, along with many others, will significantly reduce the environmental footprint of the brewery operation. Another step is Cowbell's carbon sequestration program. This is achieved on-site through an intensive, 29-acre reforestation project.
The initiative, a 2010 joint venture with the Maitland Valley Conservation Authority, planted approximately 12,000 native tree species to return the land back to forest, complete with trails and meadows for year-round use.
Cowbell's brewhouse setup from NSI is part of the facility that the whole team beam about when asked. The brewing team spent more than a year with a crew of engineers, architects, experienced brewers, suppliers and installers designing its custom, four vessel 50HL brewhouse.
Earlier this year, the team took part in the factory acceptance test of the brewhouse. For it, they travelled to NSI's manufacturing facility in Abbotsford, BC, to see the Cowbell brewhouse assembled for the first time, and verify its function and construction meet our specifications and goals.
"For this process, the NSI team built the bare bones of the brewhouse and supplied it with power in the same way it will be constructed on site, explains Stephen Rich, brewmaster at Cowbell. "The full platform with stairs is assembled, all four brewhouse vessels go in, the spindle station (sampling station) is installed, the digital controller is active, the hop dosing units are functional, the rectification unit is on and most pumps and valves work to see water flow. The stacks are left off, steam is not connected, and electrical conduit and other detail plumbing is left off. Essentially the system is built so its process-driven components are operable and it can push water around."
He added: "The factory acceptance test allowed our team to verify basic function for the brewhouse and all its major components. It is also a great time to talk about automation, maintenance, build quality, and any changes, directly with the people who engineered and built the system.
"We spent nearly two full days at Newlands with the brewhouse, inspecting (and swooning over) pumps, valves, welds, tanks and function. The level of craftsmanship that went into building the Cowbell brewhouse was very obvious when we got our first look at it. It was clear the NSI fabrication team was proud of their work and of the results."
The NSI team is proud of their work and of the results, as is its customer in Cowbell. While Stephen Rich is the brewmaster, forming part of a 110-strong team across the whole company's operations, Grant Sparling has also completed training in the field of brewing.
Upon graduating from Dartmouth College in New Hampshire in 2015, 10 days later he was starting a program at BrewLab in Sunderland, England.
Here he learned about the brewing industry areas such as ingredients food pairings, business and running a brewery. Graduating as a brewer in the September of that year, he and Rich researched craft breweries in North America, Canada and the UK.
"I think the US is around eight years ahead of what we're doing in Canada if I'm honest. They are building for the long term and that is the type of model we wanted to take and build here in Cowbell. We're building for longevity and that's what why we have invested in equipment from NSI, GEA and Krones. The best of the best. It is the top end," he explains.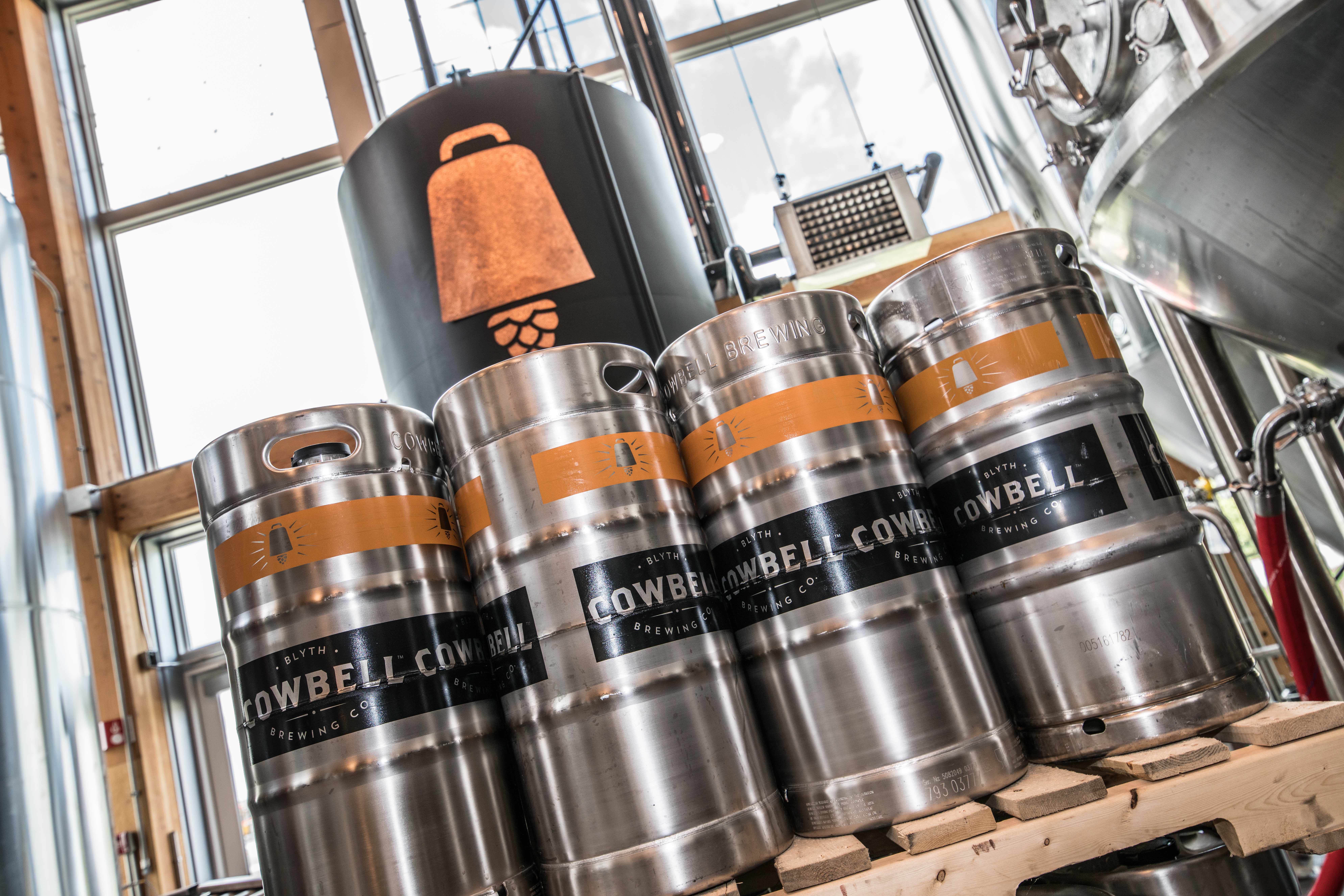 The Brewlab course introduced Sparling to other aspiring brewers from across the global stage but it was closer to home where his paths would cross with brewmaster Stephen Rich. Dave Clarke has more than 20 years of sales and senior marketing management experience with beer and spirits companies including Bass, Diageo and Creemore Springs. Upon the latter's sale to Molson Coors, he joined the Cowbell team and introduced Rich as an ideal candidate of brewmaster for the upcoming brewery.
"During his time at Creemore, Stephen brewed more than 400 types of beer with fruit, spice, vegetable or anything he could get his hands on," says Sparling. "It's absolutely fantastic to have something so creative like him on board and his beers are already going down a storm. We are already seeing drinkers come in, try a craft beer for the first time and before long, be sampling and enjoying a 12% barleywine. It is so satisfying, it is so exciting. It's hard to put into words."
The brewery is currently able to output around 15-20,000hl per annum but there's already plans in place to add new fermenters to help produce beer for its high-end GEA and Krones equipment. Other plans include building an Estate Beer brewhouse that will use fruit and vegetables from an accessible restaurant garden, a working farm complete with barley, hops, and an orchard.
"We will also complete construction of a unique outdoor natural amphitheatre for live music, culture, and athletic events, with space for 15,000 people. We want a year-round entertainment venue at The Cowbell Farm," he adds.
You get the impression that Sparling aren't ones to rest on their laurels…
He adds: "We want to be unique, we want to be authentic. We have built a barn that would have been built here 100 years ago, using food that is sourced here and we are telling stories in each and every one of our beers.
"We are crafting our brand, our stories, our future."