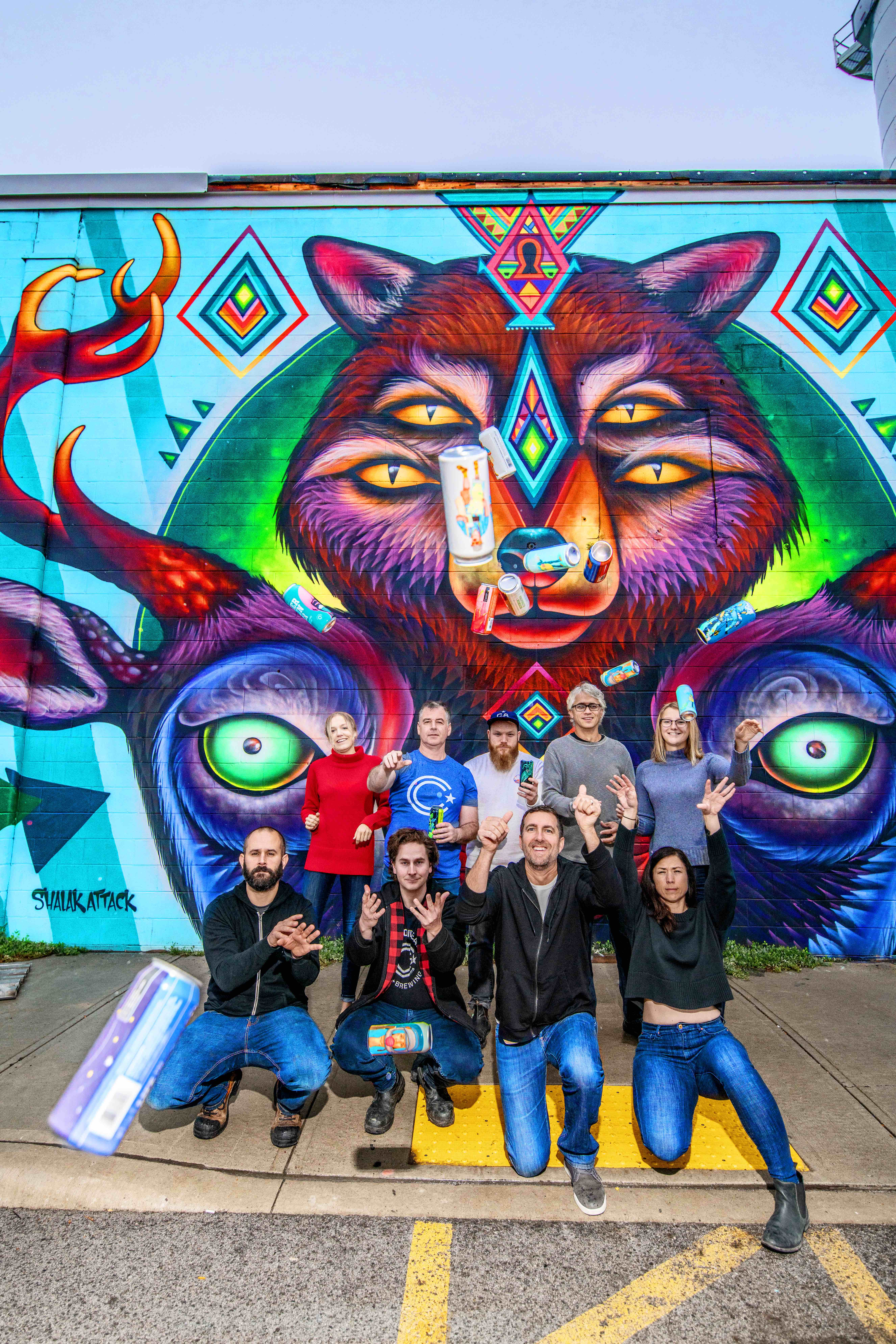 Tobacco Dock in London is a vast, sprawling space. Spanning 16,000sqm, the building comprises two expansive floors. It's a Grade I listed warehouse, built around 1811, and is constructed primarily from brick and iron. Its original purpose was to store imported tobacco before it continued its onward journey.
And for several days in the beginning of August, it's where many of the team at Collective Arts Brewing call home. It's somewhat fitting then that for a building steeped in the history of imports, Hamilton's Collective Arts are also promoting and showcasing their fine produce here. But in this instance, it's London in the UK, and not their native Ontario, that the brewery's beers are being enjoyed and celebrated in. And Collective Arts' co-founder Matt Johnston knows it's an important landmark in the brewery's journey.
Johnston and his team are in the capital taking part in the London Craft Beer Festival. Several thousand people flock to each of the event's five sessions and who can blame them, when you see the quality of the 100-plus breweries in attendance. US mainstays Sierra Nevada dovetail UK heavyweights Beavertown, BrewDog and Fuller's, while Mikkeller and Põhjala complement the wealth of quality on offer. For those three sweltering days, Collective Arts represent the sole Canadian contingent.
Ensconced in their own personal event space for the duration of the festival, the company use the room they've hired as a blank canvas to showcase their beers. These beers are enjoyed and experienced alongside art that both inspires their beers and in turn, is influenced by those pours. The space is a hive of activity throughout the festival and you get the impression that at that point, Collective Arts has well-and-truly landed in the UK.
"When we started out, an old friend of mine called Bob Russell and I sat down. We pushed ourselves on what we wanted this idea, this business, to be. And if it could make a difference," says Johnston. "So we started with a sentence, something of a mission statement that we could follow."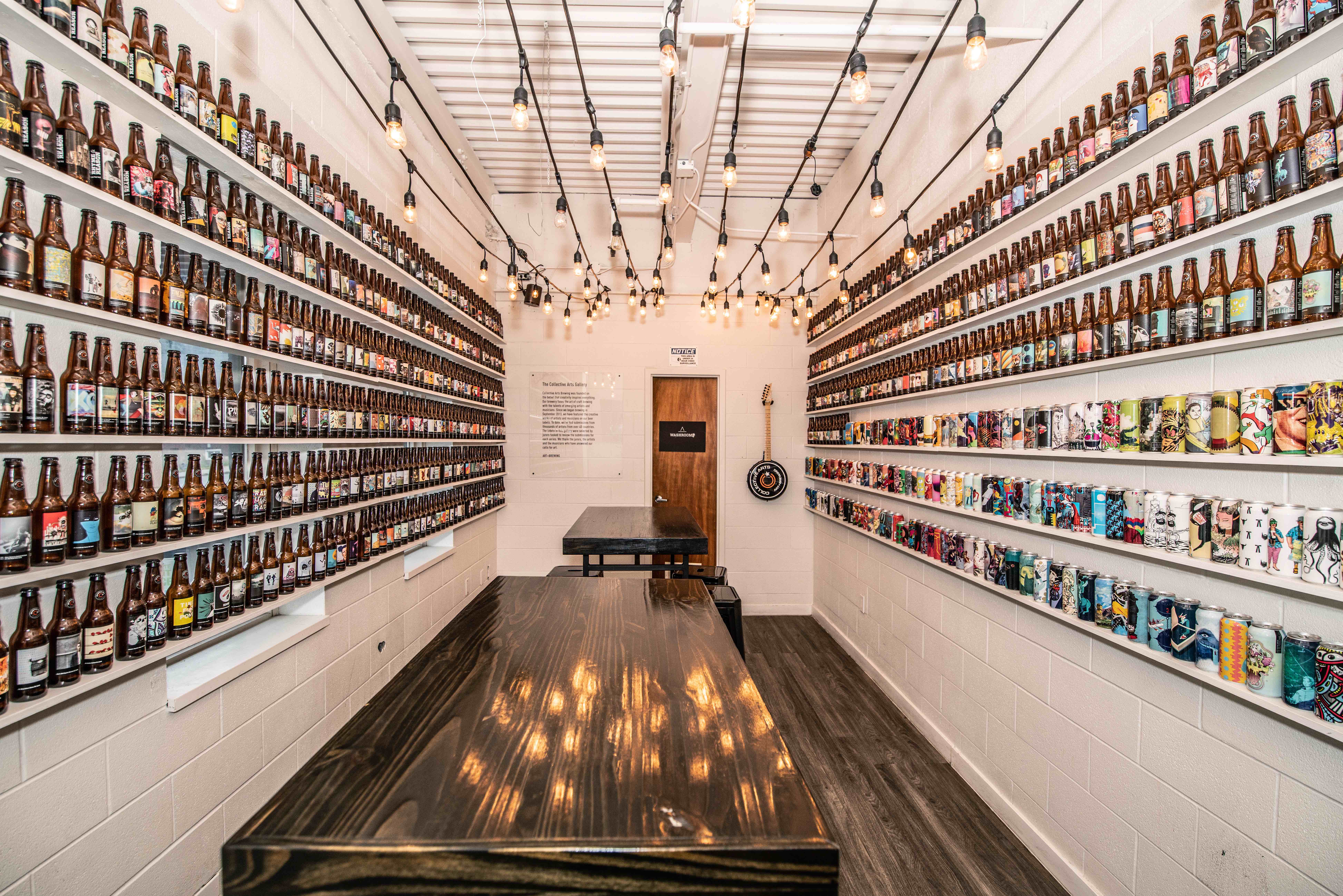 After much deliberation, the duo settled on the following…
"Fusing the creativity of brewing with the inspired talents of emerging artists and musicians from around the world."
The company's name followed shortly after. Starting out just as 'Collective', Russell and Johnston knew they wanted to support new artists and musicians. Promoting the local was of major importance but on the flipside, as Johnston tells us, so was the passion to travel, meet other creative minds and see what the world has to offer. It's that type of desire that has led the company to invest in bringing its philosophy to markets such as the UK.
Before Collective Arts came into being, Johnston worked at Moosehead Breweries. A decade spent running sales, marketing and strategies afforded Johnston with the ability to wield creative license and learn along the way. But like many professions, there was an itch he couldn't scratch, and he knew it was time to move on.
"I didn't want to become a bad employee and stagnate," says Johnston. "It was a great experience but it made sense to look forward. I had worked with Bob (Russell) in the past, who is an artist and designer by trade, and I approached him with this idea I had and if he'd be interested. Thankfully, he was."
The duo maintained that dialogue for several years. They both had a passion for craft beer, the arts and above all, creativity. The latter underpinning the two strands that would define Collective Arts.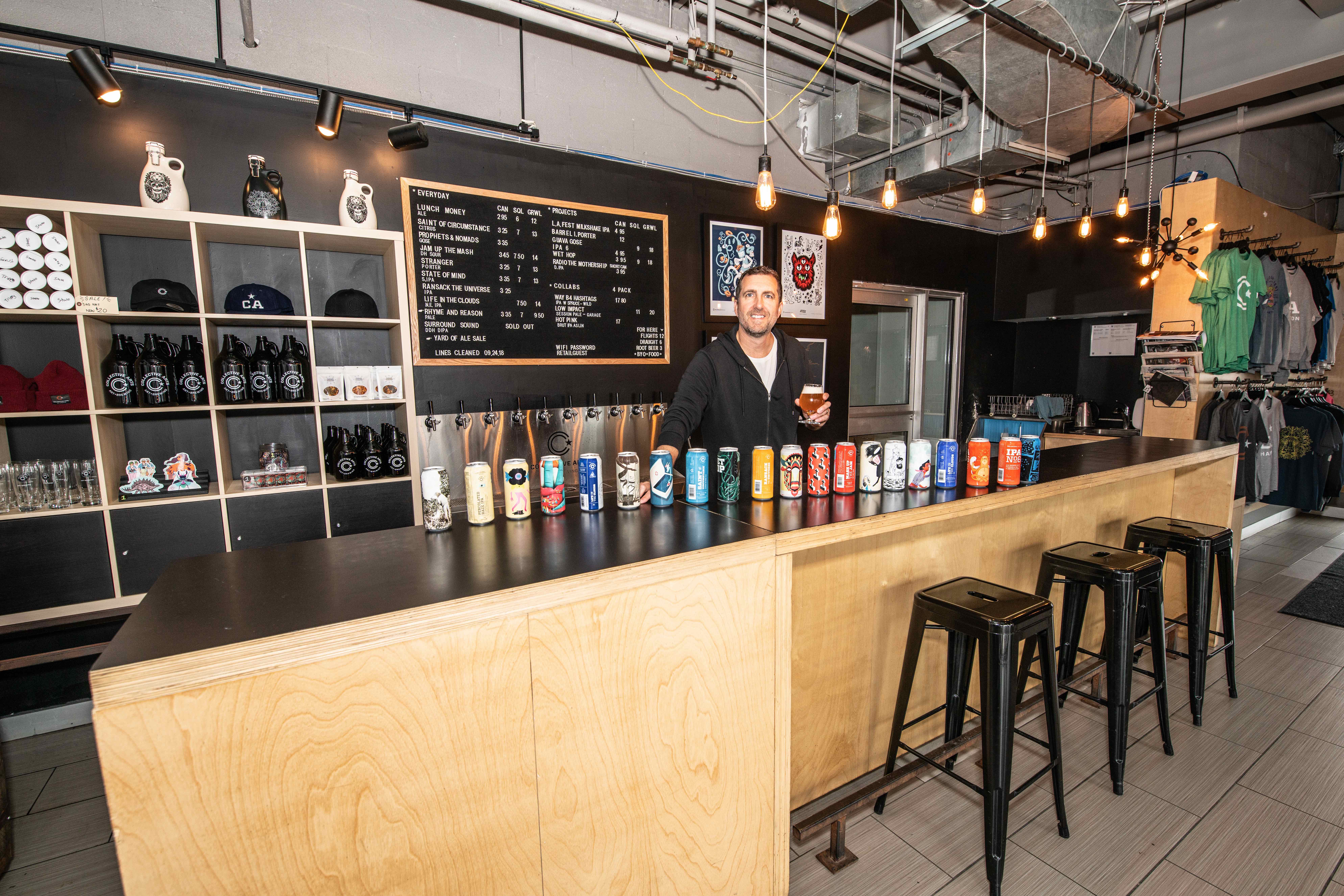 Come 2012, Johnston knew what he had to do. He informed Russell on his plans to quit his role at Moosehead and press ahead with their new venture.
And then he told his wife…
"She was fine with it, I think!" laughs Johnston. "She knows I like chaos and that this type of decision was not atypical for me. She's an amazing individual and I've probably put her through a lot. But this was just another hurdle to jump over."
Johnston describes the subsequent period as a "dark year" spent on his own. Money was tight and the idea of starting a brewery was still far off, so he opted to gipsy brew those initial beers at several local breweries.
The initial reception to these brews was positive and before long, the duo were partnering with Burlington's Nickel Brook brewery to produce Johnston's beers. It it was here he met brewmaster Ryan Morrow. Morrow would go on to help scale-up those early Collective beers and before long, they were working on a more formal basis.
For a few years, that partnership would be known as the Arts & Science Brewing. A joint-venture between Collective Arts and Nickel Brook. And although that relationship is no longer formally active, it helped shape both businesses as they are today.
Arts & Science Brewing became possible thanks to the help of friends, family, HSBC and the Hamilton Port Authority. And its home would be the Lakeport Brewing plant in Hamilton. Shut by Labatt Breweries back in 2010, it would become a brewery once more. And under Collective Arts ownership, it still is today.
"It was gratifying and rewarding to be able to bring brewing back to that area," explains Johnston. "The previous owners did what they could to make it difficult for brewing to exist there with things like pouring concrete in drains. But we aren't afraid of a challenge."
Which was good news because although there was a facility, there was no kit. Thankfully for Johnston, Sleeman Breweries had announced that it was closing its Dartmouth, Nova Scotia brewery in November 2013. Part of a move by Sleeman's parent company Sapporo International to rejig its North American operations, the company was unable to find a buyer for the facility. As a result, the kit previously housed by the building was put up for auction.
"The support we had was amazing and we're you are doing things on a shoestring, the opportunity to purchase a brewhouse, fermenters and a bottling line on auction came at the right time. Thankfully for us, we were the only ones crazy enough to bid," he recalls.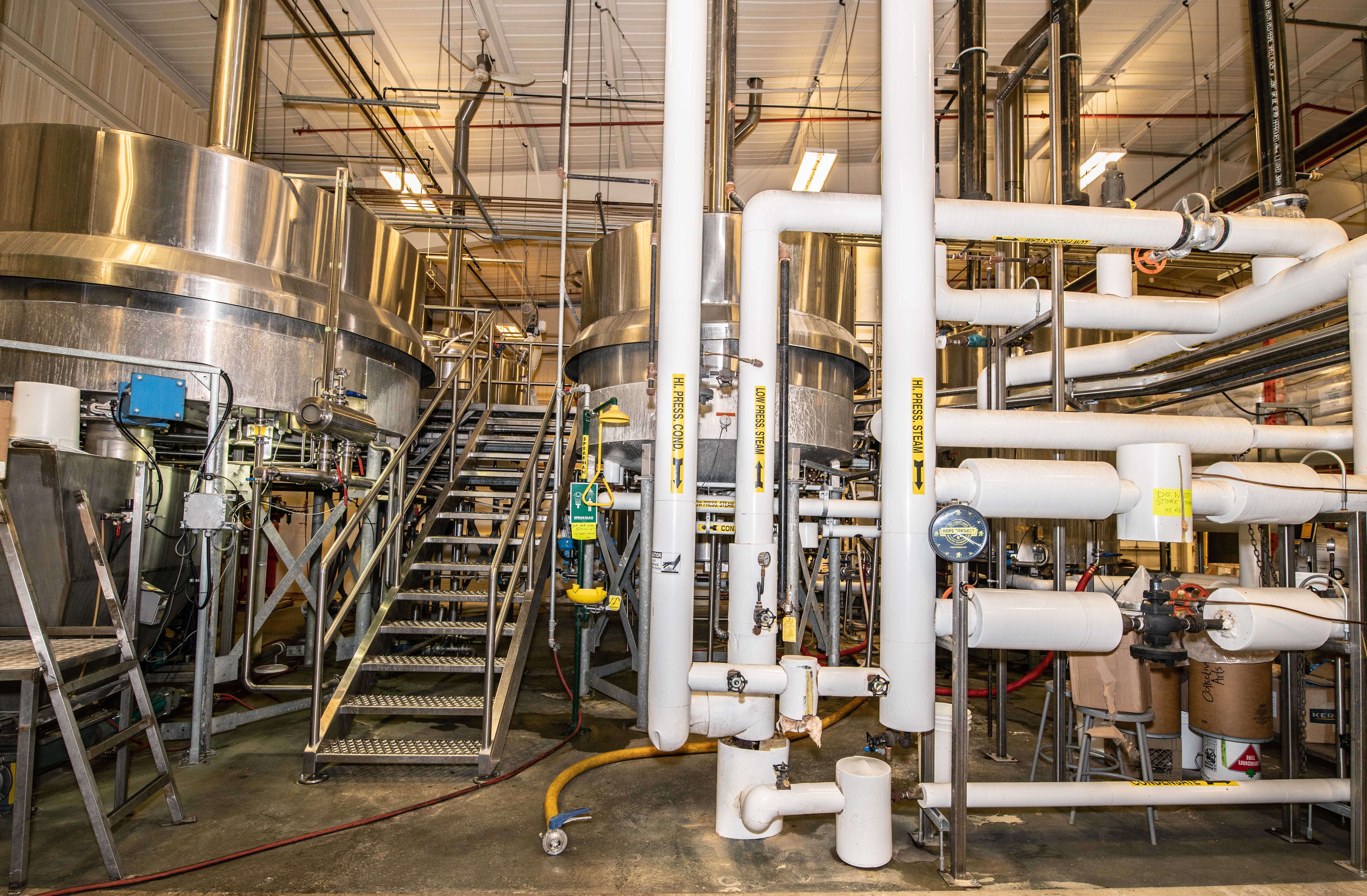 They begged and borrowed to transport the equipment from its old home in Nova Scotia to its rightful new abode in Hamilton. But they got the job done. The setup comprises a modified 60hl five vessel brewhouse from DME. In Johnston's own words, the kit, originally built to be a lager brewhouse, "turns out great beer, just slowly".
Arts & Science Brewing was a positive experience for both businesses. They grew and helped each other in different ways but culturally, Johnston says, the facility needed to be part of one company. After making the announcement to go their separate ways in 2017, the Hamilton facility is now exclusively owned by Collective Arts.
"This site had soul, and it feels like home. Our whole team has roots there and we love the city," he says. "There is something of a creative renaissance taking place and it's something you can see in action from the brewery itself. On one side you have the heavy industry and the other, the creative downtown. Being in the middle, I like to think of ourselves as creative manufacturers."
Ryan Morrow masterminded when and what was brewed during the time Collective Arts and Nickel Brook shared the space. Although they no longer do, Morrow remains as brewmaster for both businesses. A widely-regarded figured in the industry, he has helped scale up those early recipes while making his mark with a wealth of new formulations in the following years.
The first beer to see the light of day was ʻRhyme & Reason' Extra Pale Ale. At 5.7% abv, it boasts the flavour and aroma of Citra, Centennial, Chinook and Simcoe hops that prevail without excessive bitterness for maximum drinkability.
Malt sweetness in the background complements the hops for a crisp finish. Other beers that form part of the brewery's popular core range include 'Life in the Clouds' which is its flagship New England style IPA and the 5.5% 'Stranger Than Fiction' porter that features plenty of roast flavour and hints of molasses.
'Rhyme & Reason' was the brewery's first beer to be listed at the LCBO. But making just one beer at that time didn't sit well with Johnston so he pushed ahead with expediting the portfolio and to offer drinkers a more diverse range of beers. Additions such as a citrus blonde ale followed and with it, many hours spent ensuring the resulting beer was just as the team imagined. Unfortunately for them, that meant the addition of fresh zest in each brew.
"We wanted fresh zest so we'd be zesting at work or we'd be taking the fruit home along with a zip zester. Hours would be spent watching TV shows zesting as those things are no way as fast as they sound! he laughs.
Thankfully the brewery now enlists the help of a cold press juice company to carry out the arduous deed on their behalf, and prevent the onset on carpal tunnel syndrome in doing so.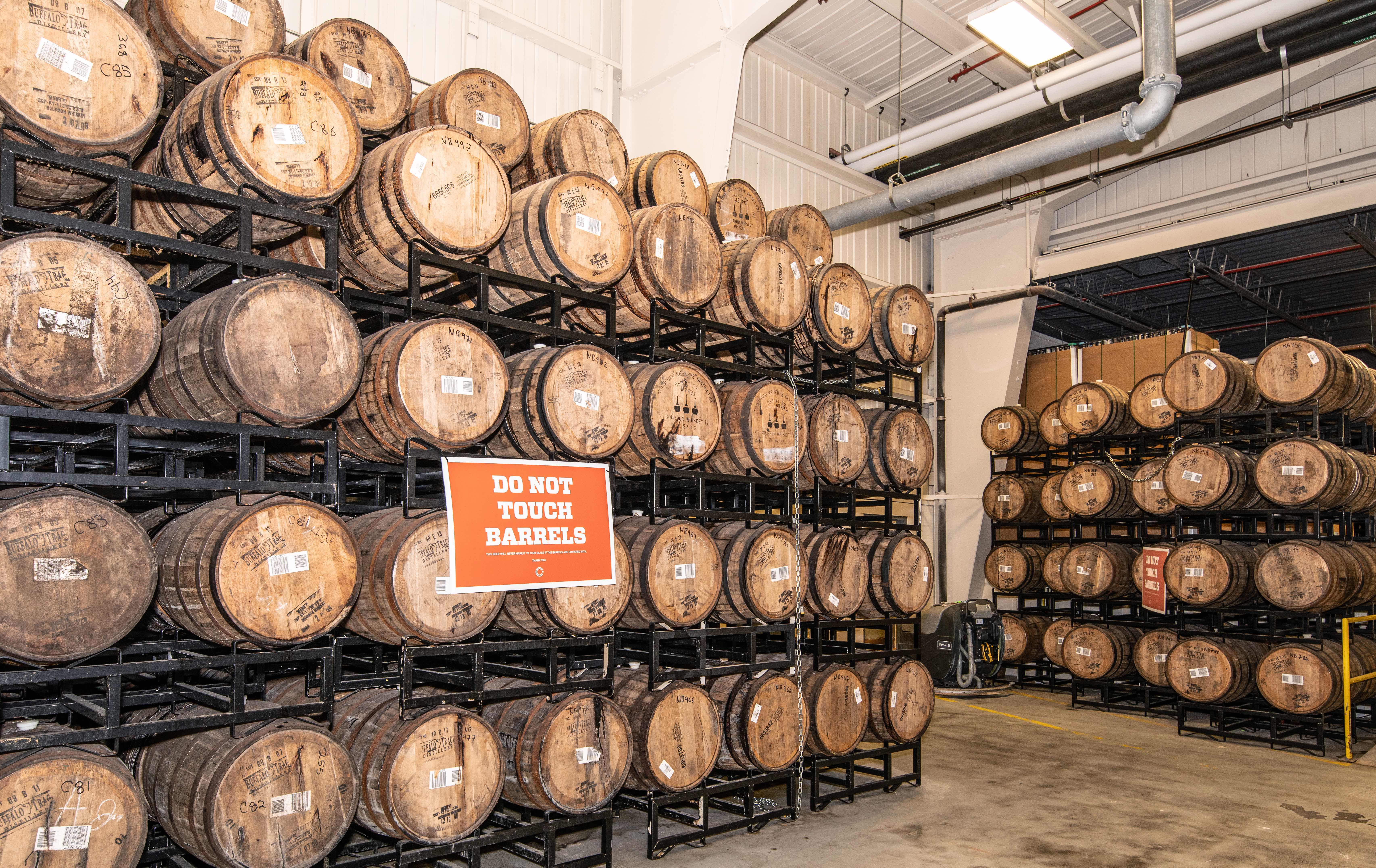 While the production of quality, flavoursome beer is of upmost importance to Collective Arts, so is the desire that set them off on the journey, to promote emerging artists and musicians. And it's a mission statement they've very much adhered to. As of 2018, more than 750 different creatives have adorned the labels of their beers. With that, Collective Arts has compensated these artists, musicians and bands to the tune of $250,000.
For Johnston, he has no desire to slow down any time soon either.
He explains: "We've been working with others since the very beginning. But at the start, we had no clue if our idea would be embraced on a wider basis. A friend from UK at time said that this whole idea was my 'student art project' and that I should let them know 'When I want a job'. Thankfully I didn't need to take them up on their kind offer.
"But we honestly didn't know if the community would embrace the fact that we didn't put our brand or brewery name on the front of each label. Instead, we were using that canvas to promote other creatives and there was a fear that the arts community doubted the authenticity of the approach and that we were truly committed to supporting them."
Such fears were eased however when the brewery hosted a launch party at the Gladstone Hotel in Toronto resulted in an incredible 600 people pass through the doors. Then fast-forward a few years and in 2018, that brewery employs more than 100 team members across all facets of its business.
"As people like to say, craft beer can be relatively inefficient," he smiles. "But seriously, we have an amazing team of like-minded creatives and seem to appeal to certain type of person. One of the first job postings I ever created listed 10 questions. I outlined that this position could be your dream job if you answer 'yes' to the questions I set out.
These included having an affinity for beer, being creative and also, that you were not arrogant, obnoxious or a douchey character. And we're lucky people ticked those boxes. We still ask people if they are motivated by chaos. They need to be as we are a fluid business that refuses to stand still!"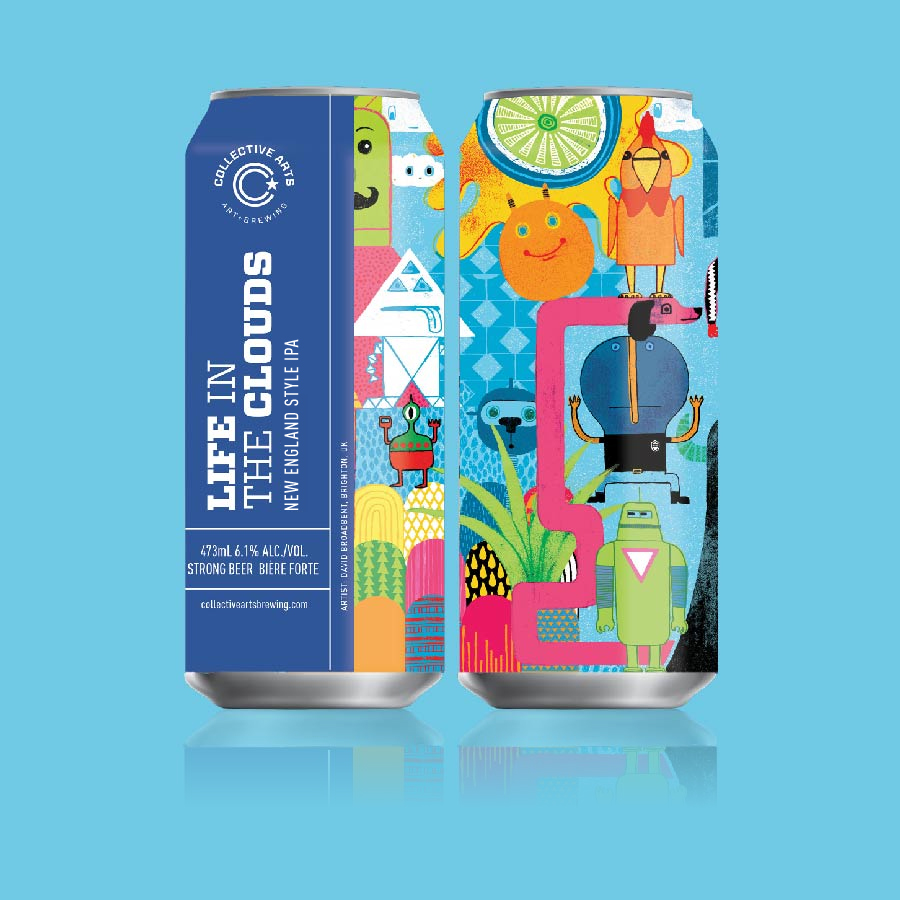 Standing still is one thing Collective Arts cannot be accused of, and Johnston recalls that nerve-wracking launch party several years ago.
"That night empowered us and made us believe that we were taking the right path," he says.
That path has led Johnston and the team at Collective Arts across the globe, including its popular showing at the aforementioned London Craft Beer Festival. You could argue its presence in London for those few days almost epitomises their philosophy, ethos and proposition.
The room was shared with Illustrate, a creative brand founded by James Katz and Tony Brunsdon in 2015. Together, the space featured a barber, DJ, live illustrations, apparel to purchase and a raft of special collaborative beers to sample. It was one of the busiest, if not the busiest space for the duration of the festival. It offered drinkers the opportunity to interact with the brewery on a number of levels.
Be it in Hamilton, London, Tokyo or Sydney, it was Collective Arts in motion. Those few days celebrated existing collaborations and no doubt helped sow the seeds of numerous ones yet to be realised. If that was indeed the case, you get the impression Johnston would have a big smile on his face.
With that successful showing in London under its belt, having its beers sold and enjoyed in places like the US, UK and Europe more widely remains a major part of Collective Arts' plans.
And it's one they are beginning to realise.
"We have seen how challenging it is for artists to be seen and heard. I don't want to get too deep but I think the world is a bit crazy right now and I believe that creativity makes the world a better place and at the moment we need more of that, says Johnston.
He concludes: "We want to garner the amazing creativity so many artists foster. If we can put it out there, then they benefit and hopefully the drinker gets inspired. If we can do that, then we're doing what we set out to do."