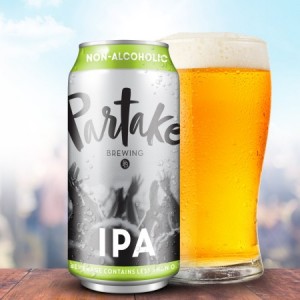 A non-alcoholic brewing initiative has hit its Kickstarter goal in three hours and is now more than $6,000 over that figure, too.
Partake Brewing is the brainchild of Ted Fleming and is initially focusing on a recently developed non-alcoholic IPA.
He takes up the story: "Five years ago I gave up alcohol due to a medical condition. But I missed my beer. I missed the taste of beer and discovering new beers, especially new craft beers.
"But more than that, I found that I missed the social connection that comes from sharing a drink with a colleague after a hard days work, cracking a beer with the guys after hockey, and joining in to celebrate special occasions with family and friends.
"So a friend suggested that I try non-alcoholic beer. The problem is most of the non-alcoholic beer I tried tasted awful and there really was almost nothing in terms of variety. Unfortunately the long-standing stigma surrounding non-alcoholic beer has been well deserved.
"That is until now!"
Fleming said the business will be focused on crafting and brewing great tasting non-alcoholic beers in a variety of styles with its IPA featuring three varieties of hops and six malts.
Certified Cicerone Crystal Luxmore, said: "Made with citrusy bold, fruity Cascade, Amarillo and Citra hops, this IPA pours a brilliant gold with a bouquet of sweet florals, grapefruit and honey on a light, effervescent body with a lingering grapefruit pith bitterness after the swallow.
"At the lower end of the bitterness scale for IPA's, clocking in at 49 IBU's, this beer balances the citrusy hops with a sweet malt backbone. Its light and bubbly body and dry finish make it an all-day sipper that packs a lot more flavour than most non-alcoholic beers on the market."