When David Cayer met Julien Niquet while studying business at Université du Québec à Montréal (UQAM), a French-language university in Montreal, neither would have guessed that they'd be running a successful brewery, distillery and distribution group less than a decade later. But that's just what they are doing. They employ a team of 60, export to 25 US states and represent nearly 30 breweries distributing in Quebec. Not bad for a duo that had a background in neither beer nor spirits.
"We studied business, and at that time Julien was telling me he wanted his own business. It ran in his family and he had the same desire, explains Cayer. "Following years in education and other roles, we took the decision to start a distribution company in another sector. While it didn't go as planned, neither of us wanted to return to taking positions within big businesses. We had that experience of working for ourselves, of making decisions, and having your own goals. So that is where beer came in."
So in 2010, the duo initially came up with the idea of brewing a gluten-free beer. The reason? Niquet has been diagnosed with celiac disease a decade earlier and was "completely appalled" by what the market had to offer in terms of gluten-free beers, so he and Cayer saw a unique opportunity to fulfil an ever-growing need for quality and grasped it.
"We knew it was surely possible to make quality beer that was both tasty and consistent. But there were just no options available for drinkers wanting gluten-free beer. The goal was to do something better than others so we could not just get a slice of the local market but to become the go-to beer in that space," he says. "But we were not home brewers so we didn't tread that well-worn path of starting brewing in a garage and then moving up from there, so that is pretty unique as it normally starts that way. For us, this the opposite. We were business first and came at it from that way."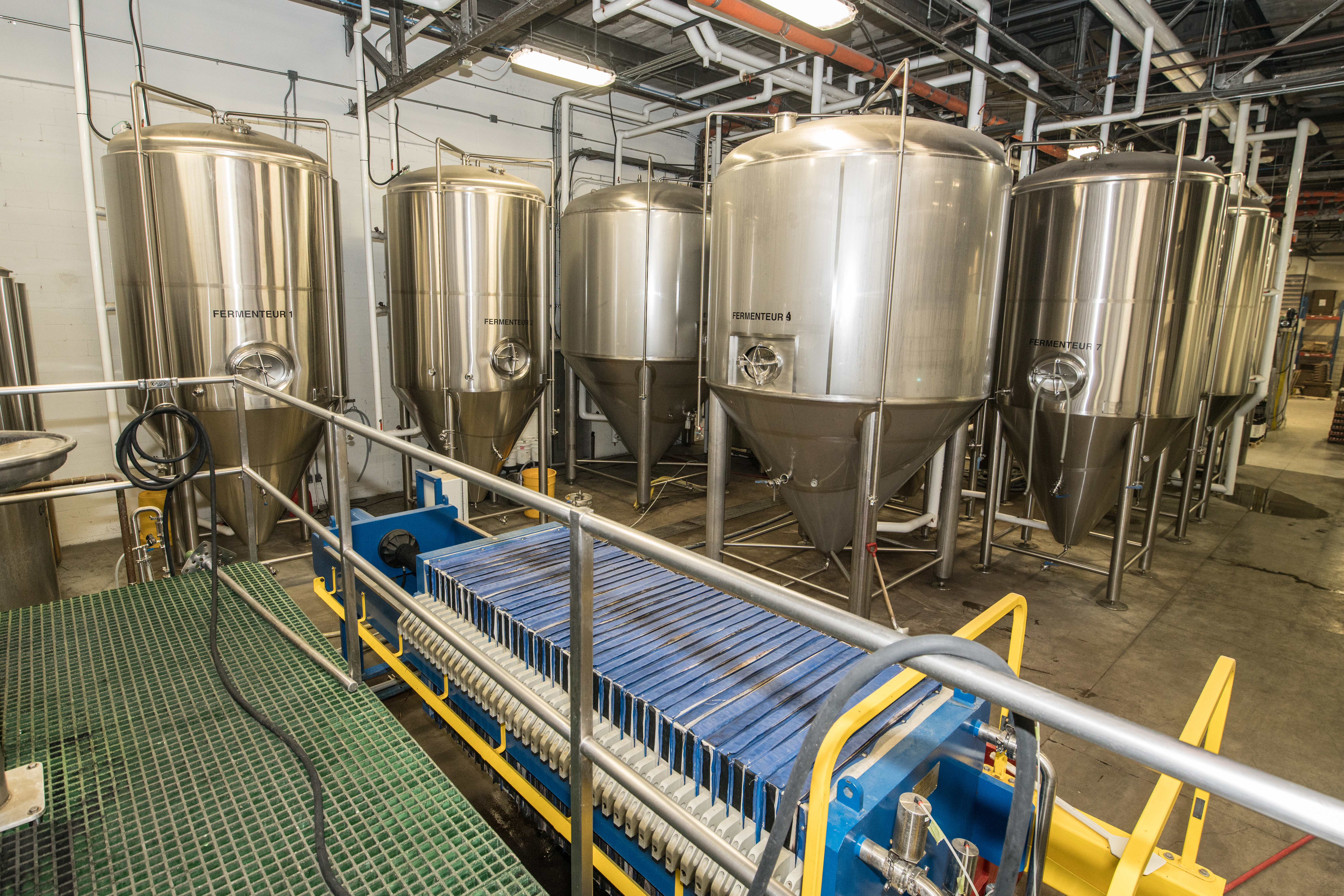 And it is that business background and focus that has informed and educated the duo's outlook since Glutenberg came into being. They brewed, by their own admission, a disastrous yet hilarious test batch of beer so swiftly set out to recruit a head brewer to steer the brewing ship in the direction they wanted.
This team member came in the form of Gabriel Charbonneau who Cayer and Niquet actually found through Facebook. Charbonneau was working at Brasserie McAuslan but his desire to become part of the business saw him work a gruelling whole year that comprised day shifts at McAuslan followed by nights brewing at what would become Glutenberg. A period of comprehensive R&D followed with the team's first beer, Blonde. By summer 2011, the team was happy with their inaugural beer and had the brewery fully set-up and operational.
"Our first beer and flagship product, the Glutenberg Blonde, took on the Québec market. Its dry profile, its lemon peel notes and, most of all, its rich and powerful aromas made it an instant success. But despite the initial idea of having only one SKU, we soon realised that simply wouldn't work. So the introduction of the American Pale Ale as well as the Red Beer followed shortly, allowing us to finish our first year of existence with three tasty and innovative gluten-free beers," says Cayer.
And shortly after the wheels started to turn, success started to follow. In May 2012, the team obtained its first international recognition. Its beers collected all three medals of the Gluten-Free Beer category at the prestigious brewing intercontinental competition, the World Beer Cup. Not only was this a new achievement for the brewery, it was also an all-time first in the competition's history.
"By winning the World Beer Cup and by sweeping the category, calls came from Italy and the East Coast. The first 5-10 states we distributed to were a consequence of that award, there is no doubt about it," explains Cayer. "We have worked hard on building the business. Today we sell to 25 states in the US, across Canada and we seeing more activity in France, Sweden and Norway, too. There is so much potential for us but we feel that we are just starting. We genuinely believe that we make the make the best gluten-free beer in the world so it's about getting them out there and getting seen. There is a big opportunity in Europe and it is part of our plans. We have confidence in what we do."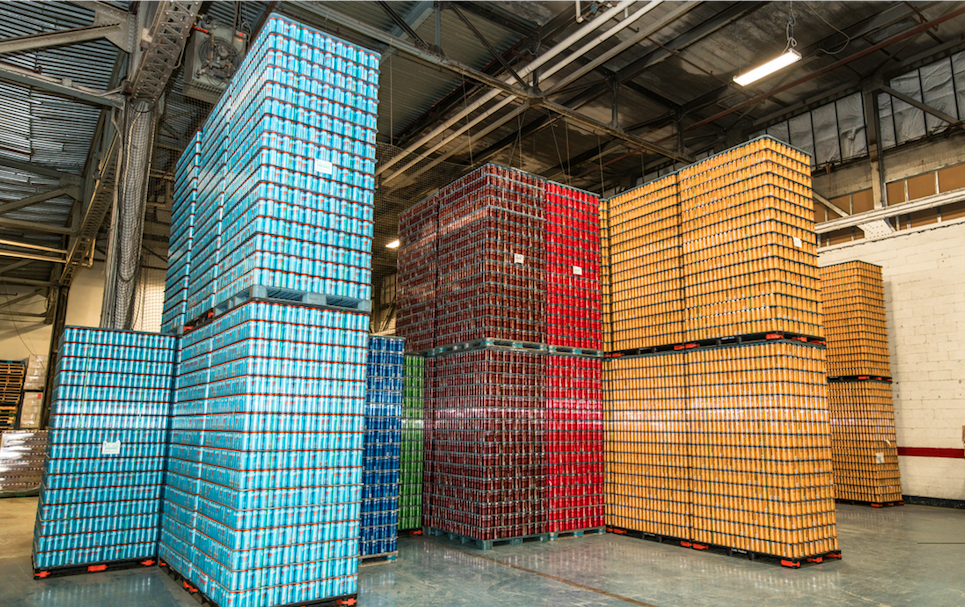 Montréal's Glutenberg operate a 40HL NSI brewhouse and expect to have produced well upwards of 80,000HL of beer this year. All of Glutenberg's beers are exclusively brewed with gluten-free grains such as corn, millet and buckwheat. They do not use wheat, barley or any other ingredients that contains or may contain traces of gluten, therefore ensuring a completely and 100% safe gluten-free beer. An ELISA test is done on each brew while every new style is 0,00 PPM-tested by an independent lab. Cayer has observed that focusing on the core has been key for the business. Especially at a time where the market continues to experience new beers hitting taps and shelves each week.
"We used to sell a lot of our seasonal beers but today we are at a point where there are something like 10 or 20 new SKUs launching each week. They are all in the same game and in my opinion that is bad for the industry. If you enjoyed that beer, you rarely have the opportunity to have it again, it's getting ridiculous. You need to focus on your core products and on keeping, and growing, your audience," he says.
Glutenberg's core beers reach customers in cans. When the team started out in the market, these beers were bottled as it was the most convenient option but this approach has changed.
"Moving to cans was one of the best decisions we ever made. When we were looking at export markets, and our US importer outlined the reasons to can, so we went with their advice. And when we moved to our newer brewery around three years ago, we invested in a GAI line through Prospero and have pushed on from there, explains Cayer "The only downside was that certain markets in Europe weren't as ready for cans several years ago but that is changing. The market is shifting and people's perceptions of canned beer have moved on.
But regardless of the vessel, Cayer believes that drinkers have connected with the brewery's beers for a number of reasons.
"One reason our beers stand out is because we do it 24/7. It is what we do. There are lots of breweries doing gluten-free beer but for us, it is our core. We don't brew lots of different beers and then the odd bit of gluten-free. It is all we do here. We want to create amazing beer that is gluten-free but we are proud that we sell our beers to tolerant drinkers, too. People are drinking them by choice, whether they have an intolerance or otherwise. Drinkers want our beers because of the taste, not as a necessity," he says.
And Cayer is keen to stress that particular point.
"When we were building Glutenberg, more and more people were being diagnosed with celiac disease. We have seen an uptake in our beers from that and we started this brewery due to the lack of quality gluten-free beers. But we have targeted consumers such as runners and athletes, also," he explains. "They are drinking gluten-free beer for their own reasons such as them being less filling. So we are doing a lot more in that space. We are talking to people in that field and showing them that we are a viable option for people that want a beer that offers properties standard beers do not. And you need to give customers want they want."
While customers in the Glutenberg brewery sense are beer drinkers, the business-driven duo of David Cayer and Julien Niquet have broadened the demographic it serves with the addition of two new companies in recent years.
Founded in 2013, Transbroue is the first private company to specialize in the distribution of microbrewed beer in Québec. Due to the lack of dependable large-scale beer distributor, Glutenberg's founders decided to start their own distributor with near enough instant success.
"We are looking for a distributor in Quebec, and were not able to find one. Most breweries have the same issues so as a result of our proposition we have 25 clients, six trucks, a wealth of reps and better representation and distribution for the breweries we work with. Transbroue, who handle distribution for Beau's, Brasseurs Du Temps and Jukebox among others, have the ambition of distributing, in the Québec market, the best beers brewed here and elsewhere," he adds.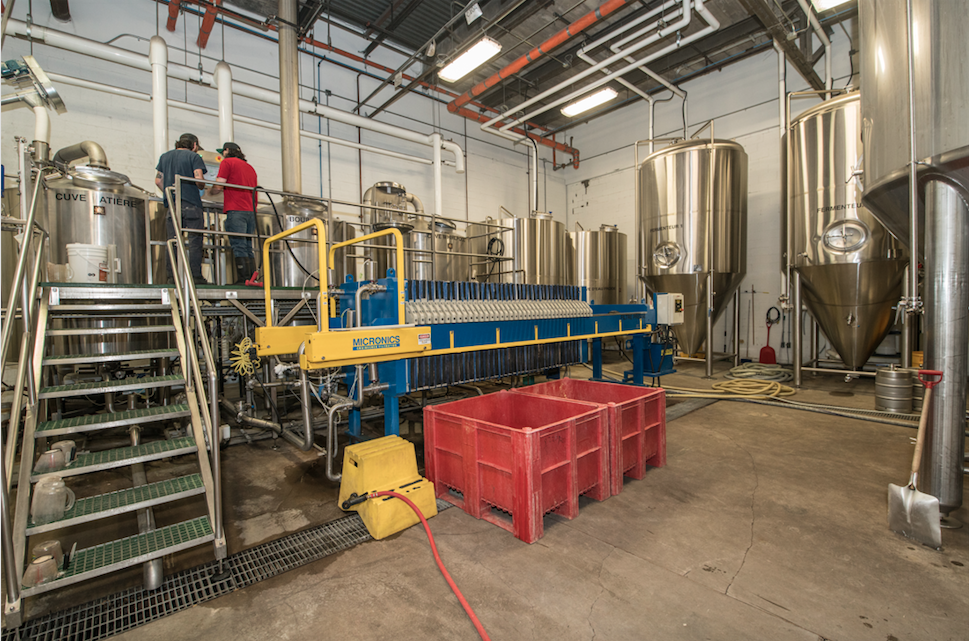 The duo's other firm is Oshlag Brewery & Distillery. The very first establishment of its kind, Oshlag brews beer and distills spirits under the same roof. Its signature name comes from the Montreal neighbourhood of the same name, once a small Iroquois village discovered by Jacques Cartier in 1535.
"Oshlag brings together our ancestor's fearlessness as well as today's montrealer's boldness, a combination that makes it truly unique. Intertwined, the brewery and distillery create a one-of-a-kind entity and ass of March 2017, Oshlag is a recognized member of the American Distilling Institute. We make our own beer but when we have capacity, we offer contract brewing, too. It is exploding with clients waiting for a capacity window to open, explains Cayer.
He adds: "Glutenberg and its gluten-free proposition is great but we are so excited about these projects, too. We are a strange animal in this industry and we can't stop finding opportunities. When you have a business background you learn to seize the opportunity but we want to keep grounded and keep growing. We want to do more in North America and overseas, to be the number one Gluten-free beer in as many markets as possible. And we want to be the best, but if you don't put energy into what you do, you will get what you deserve and you will only get minimal returns."